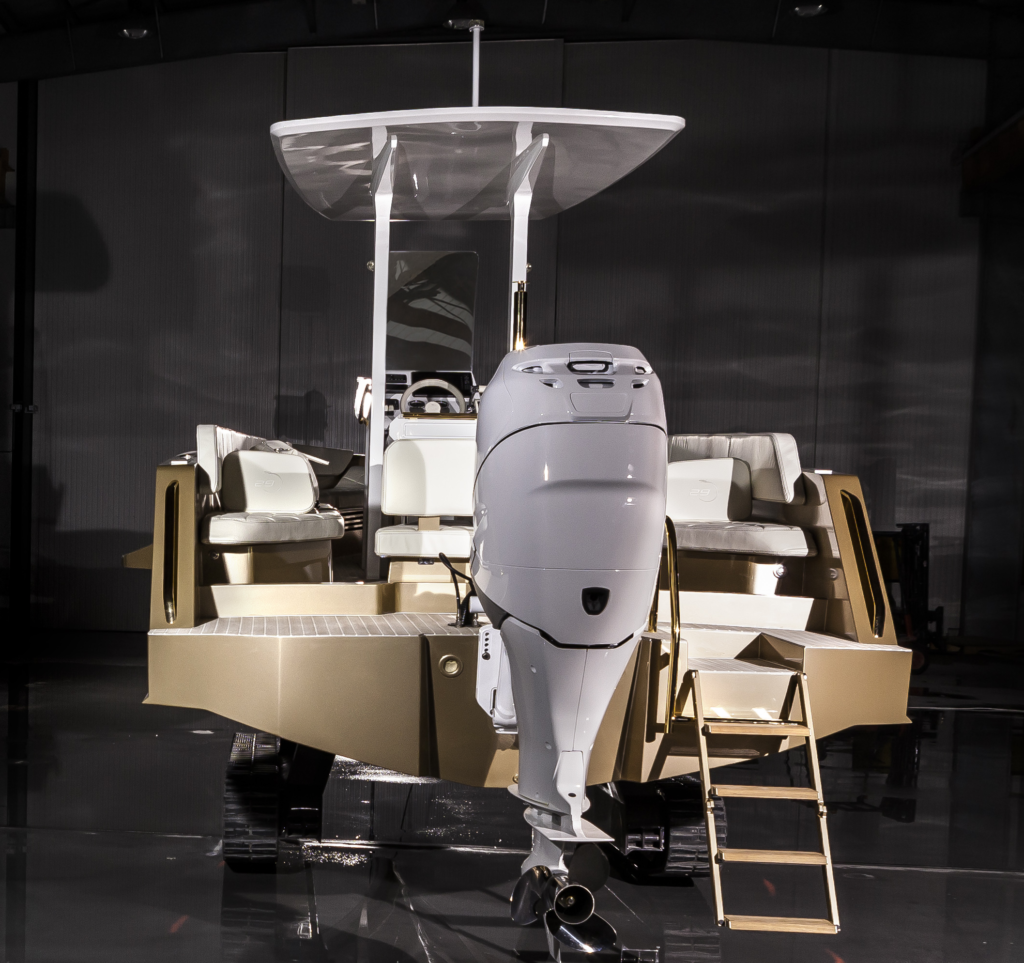 Comment un chantier naval français a conquis le monde ?
Rencontre avec Iris Brugidou, en charge du marketing chez Iguana Yachts, fabricant de bateaux amphibies à chenilles depuis 2008. La plupart de leurs clients recherches ce type de bateaux pour des îles privées, des superyachts ou des maisons en bord de mer. L'idée est d'allier performance, design et fonction : avoir un très bon bateau qui peut monter jusqu'à 50 nœuds avec des matériaux qualitatifs, résistants dans le temps tout en gardant un très beau design. Iguana Yachts travaille notamment en collaboration avec des designers français expérimentés comme Antoine Fritsch et Vivian Durisotti. Aujourd'hui la solution plateforme amphibie mesure environ 10m avec une large gamme de ponts. 
Les bateaux amphibies viennent repenser la façon de naviguer. En effet, ils peuvent entrer et sortir de l'eau seuls sans besoin de l'arrimer ce qui permet de fluidifier l'expérience de navigation et de faciliter l'utilisation du bateau.  
Iguana Yachts se focalise sur le marché du luxe et de la plaisance. 
Focaliser sur le marché du luxe et de la plaisance et notamment la plaisance durable. L'amphibie a déjà un impact moins important sur l'environnement. Il y a aussi une limitation des impacts sur les fonds marins, les côtes et les océans puisqu'ils enlèvent les constructions, les infrastructures. De plus, le produit passant beaucoup moins de temps dans l'eau, il n'a pas besoin de produits toxiques sur la coque. La prochaine étape vers la plaisance sont les bateaux électriques ainsi que le foil. 
Book-Tip de Bettina Frohlich : Yachts: The Impossible Collection – Myriam Cain – Assouline's Ultimate Collection
Since time immemorial, monarchs, nobility and the aristocracy have yearned to spend their leisure time on the water. From the swinging '60s Hollywood royalty invited aboard Aristotle Onassis' Christina O, the yachting scene has always attracted celebrities, high society and the top 0.1%. But with over three thousand sizable yachts currently in the global fleet, not to mention those legendary vessels that are sadly no longer in existence, how do we distinguish the crème de la crème of this exclusive breed?
Yachts: The Impossible Collection is an eclectic and carefully curated anthology of ships, from the 1851 ship for which the America's Cup was named, to J Class racing yachts of the early 1900s, to the current high-tech megayachts, from classics with timeless silhouettes, to head-turners that broke the mold with daring design and redefined their era. And with so much focus today on the environment and the health of the oceans, the yachting world is changing quickly, increasingly pursuing sustainability. Whether impossible in sheer size, speed, luxurious features or advanced green technology, all of the vessels in this fantasy marina have transformed the yachting seascape.