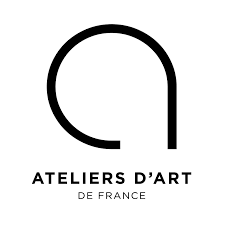 ansu • A Parisian artist inspired by seabeds…
Interview with @ansu_studios – a Parisian artist inspired by seabeds, architecture…
#uniquepiecesonly #embroideryart #feathers
Finalist #atliersdartdefrance
• When did you discover your talent?
I like this question because I did not study Fine Arts, even though I wanted to. It's only after a few years traveling abroad, coming back to France, faced with the question, what will I do for a living that I started to give serious consideration to, who I truly am, my goals, and dreams.
Making living was not enough. I needed to fulfil myself. Creating became a necessity as is breathing to live. I've always been into Art, Music, Haute-Couture, Couture (considering the requirements to be called Haute-Couture), I was customising everything, from shoes, bags, clothes, notes books, doing collages, painting, writing songs/ poetry…
It took me a while to admit it and resist my own doubts and fears, but in 2018, after years of procrastination, I decided to go for it.
• How were you able to acquire your know-how?
Since I wanted to go professional, I went to an intensive training for a year, at Lycée Octave Feuillet (Paris), teaching all kind of Métiers d'art like Hand Embroidery (needle and crochet de Lunéville), then later: Plumassier, Fleuriste.
As I ended my training as an embroiderer, with an internship, in one atelier creating galons (the braids on the edge of Chanel's clothes), one of my soumission has been accepted (a soumission is the initial project you present to a Fashion House).
I then started a new life with a freedom I dared to enjoy, acquiring my skills of a hand embroiderer in the best Parisian ateliers, making sure to "Watch and Learn »!
It's tough but working hard to produce an amazing and unique piece is truly rewarding.
For me, it means life: it is necessary! As I breathe, I need to think, create.
The process is on my mind as a sketch, a song, a perfume, then, I think of the materials I'll use, feel them… I can start to work.
• Your upcoming projects?
As I left the Haute-Couture ateliers to express myself on different supports, I'm working on volumes, sculptures, artwork and books.
As I'm mixed, Eclecticism is a way of life, so I want to address my work to Art, Architecture, Design, Fashion… Today, all these universes erase their borders to enhance their offer.
Since only a minority of people have access to The exceptional, I want to exhibit in libraries, when you have toddlers with their parents, elderly, young and teenagers, homeless… all kinds of people come to read, inform, instruct, feed themselves, to travel by imagination… Education can make the difference.
• What are your desires of artworks?
Since I'm working on fabrics, paper, glass, I'd love to work on wood, and metal, on a bigger scale, playing with natural light as the day passes by, touching my audience with different emotions. I want it to be, to feel unique!
The very next project I'll be working on is an embroidered space divider featuring my coral pattern, varying composition and materials.
• For which luxury sectors are they intended?
My possibilities are wide open, although my immediate projects are for private customers, interior designers.
I want to intensify the experience of staring at an artwork, no matter what the purpose, so I'm meeting with people appreciating or discovering my work and respecting my values, such as Architecture Designers with space dividers, volumes, sculptures thinking of adding a special twist to an object that the customer will use or enjoy; Fashion Designers: creating The exceptional, the One piece…
Drawing, embroidering, feathering, sowing are skills to beautify all the days of our lives, always pushing the limits a bit further.
• Do you plan to do collaborations with other craftsmen or artists?
Collaborations are one of the best ways to feed myself. Some are in process or to come (weather on paper, fabric or metal), so keep in expectation!
Seeing my work in someone else's eyes is very instructive in many ways: after the likes come the upbuilding critics, the thinking, the re-do process, the improvement.
Life is to learn, to experience, to test, taste, cry/ laugh, achieve goals, acknowledge not only my failures but also my victories, as a multicultural woman, a focussed entrepreneur with so many things to juggle with.
• Who do you dream of working with ?
As Eclecticism is my frame of mind, they are quite a few:
The team of le Petit h d'Hermès: In 2018, when I decided to fulfil my goals, I met Madame Mussard, I fell in love with her, I totally relate to her approach of using things: expropriate an object of its primary function is for me the best way of showing that this product is meant to be. She did encourage me to make it happen, it took me a while to get ready as I grew in my approach of conception and making processes.
Matali Crasset: She's one the greatest designer in the world, her humility and encouragement to dare and collaborate moved me!
Sarah Andelman, to celebrate Colette Forever, all it represents for the Fashion Industry and beyond!
Victoire de Castellane: I'd love to picture her imagination is what I like of Luxury: playful, colourful with skills, on display in beautiful windows.
Chanel by Virginie Viard, because I love the way she continues to bear the values of the House and yet, twisting it, as the use, and the look on the Industry is changing.
• Do you want to add anything else?
These days, we are faced with the consequences of intensive production without any sort of consideration for all the resources offered to us. Creating by thinking of what I dispose of, then get the materials needed is my first approach to any ideas I want to materialise.
I do make it a point to value the remains of each project, or buy at places when they re-use, re-condition.
The care and concern are not only shown into my pieces or to the people around me, but also in my name: ansu means "tears" in Hind and "please" in Hebrew, always to be written in small letters, willing to put emphasis on my work.
Have a look on Instagram @ansu_studios